For lunch on Friday, I decided to attempt to cook "General Tso's Chicken", a Chinese dish that is very popular in Chinese restaurants in America & Canada. The chicken is first deep-fried and then coated with a sweet and spicy sticky sauce, a good accompaniment to a bowl of fragrant steamed white rice!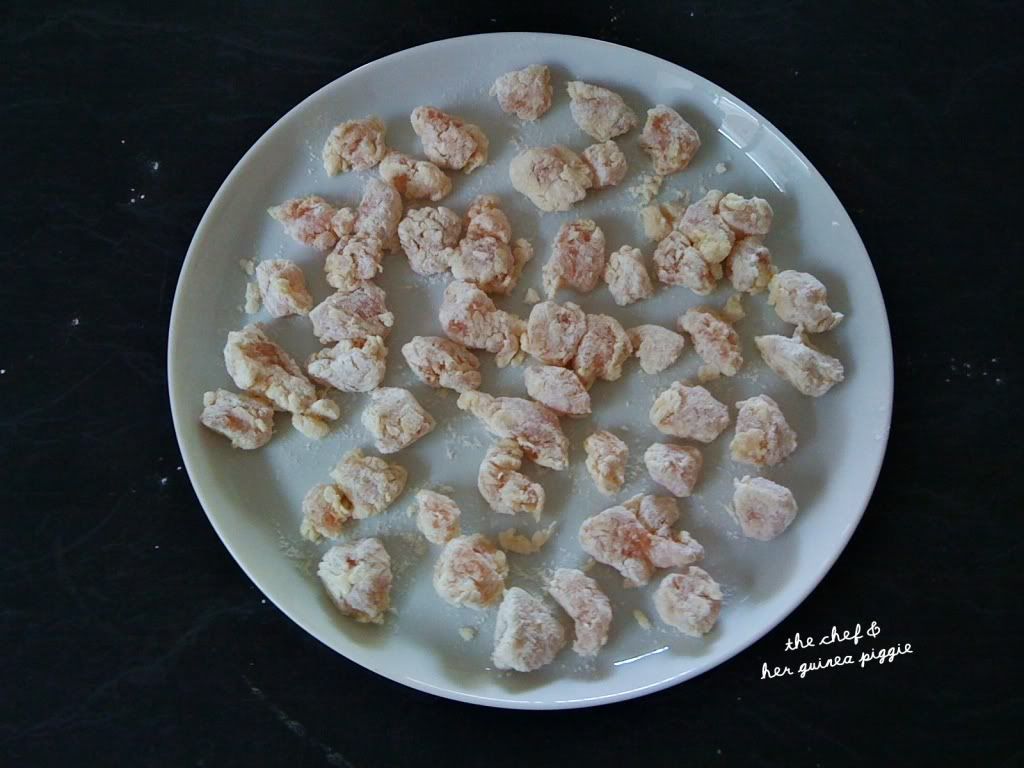 Chicken chunks coated with flour
. I really
really
think that in this pic, the flour coated chicken chunks resemble Ding Ding Tang/
Ding Ding Candy
/
Deuk Deuk Tong
/
丁丁糖
! Ding Ding Candy is a Chinese traditional hard maltose candy. The giant piece of hard candy is broken into smaller pieces using a pair of chisels and then coated in flour. As a kid, I used to love eating this hard candy. The sound of the flat chisels knocking against the giant piece of hard candy ("Ding Ding" - hence the name of this candy) is somewhat like the ringing of bells of the icecream man; it draws me to the store no questions asked. The only drawback about this candy is that it tends to stick like super glue to your teeth, which can sometimes be frustrating!! Sometimes the only way of getting that piece of hard candy off your teeth is by using a finger to dig at it (so unlady-like!) It's really hard to find these traditional sweets in Singapore nowadays and even harder to even spot them being sold here in Melbourne! Together with Ding Ding candy, some of my childhood favourite snacks/sweets also include:
Dragon Beard Candy
& Muah Chee (recipe for homemade muah chee available
here
&
here
; for a black sesame version of muah chee, click
here
)!!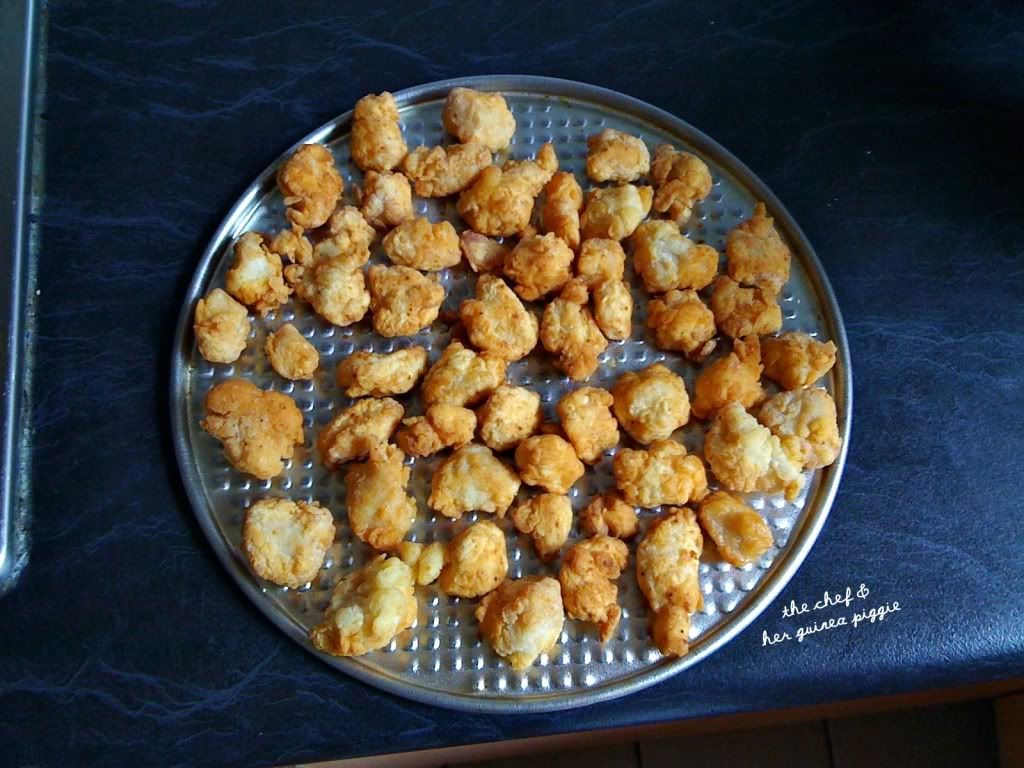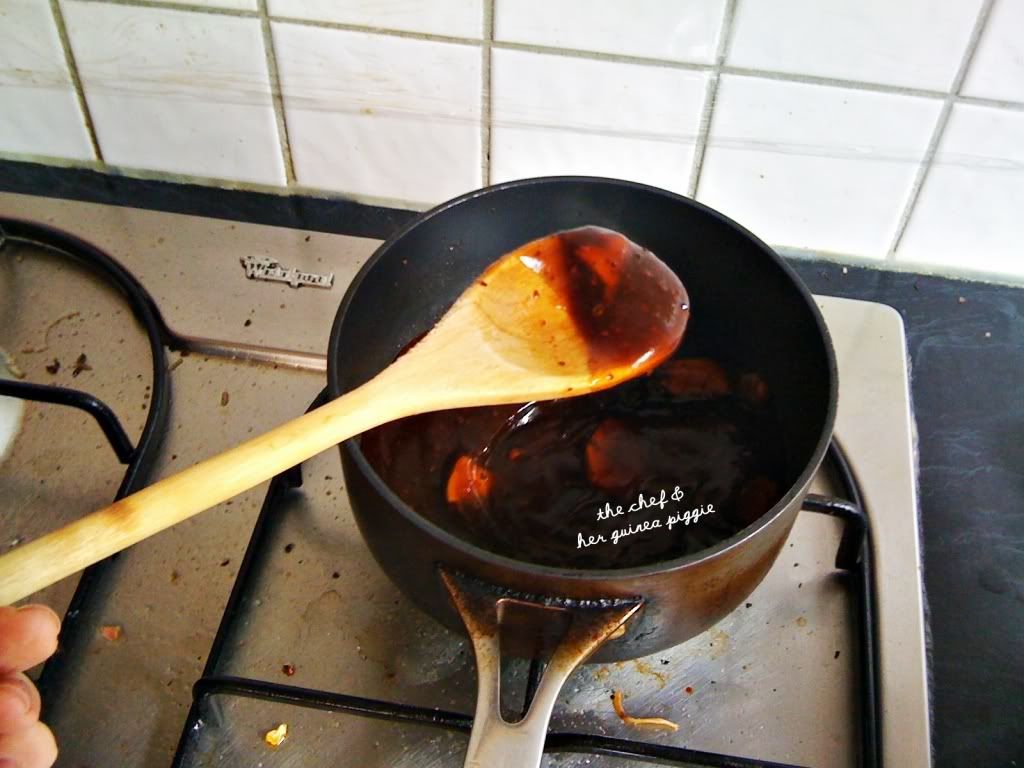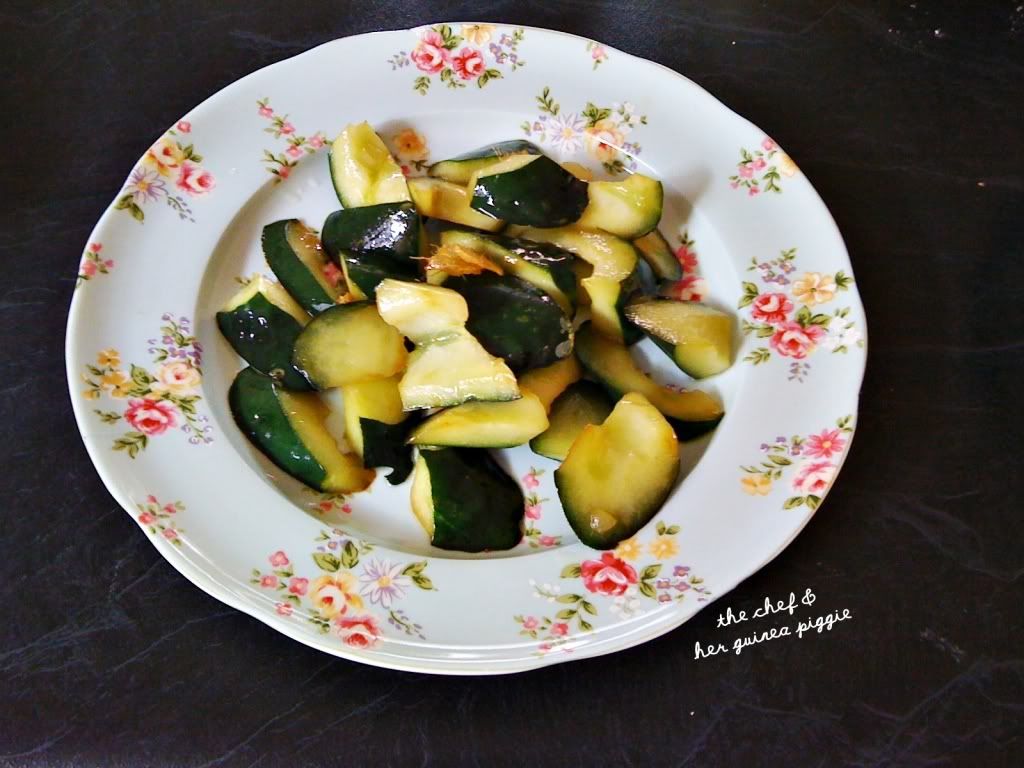 Stir-fried with some garlic, a sprinkling of salt, & sugar.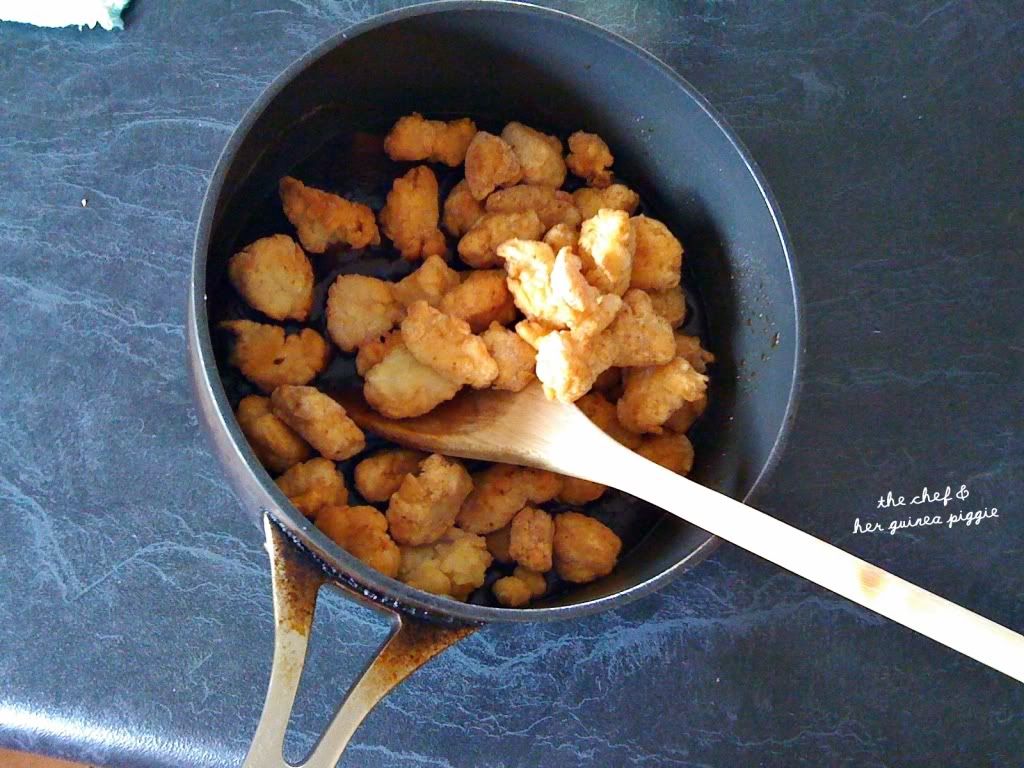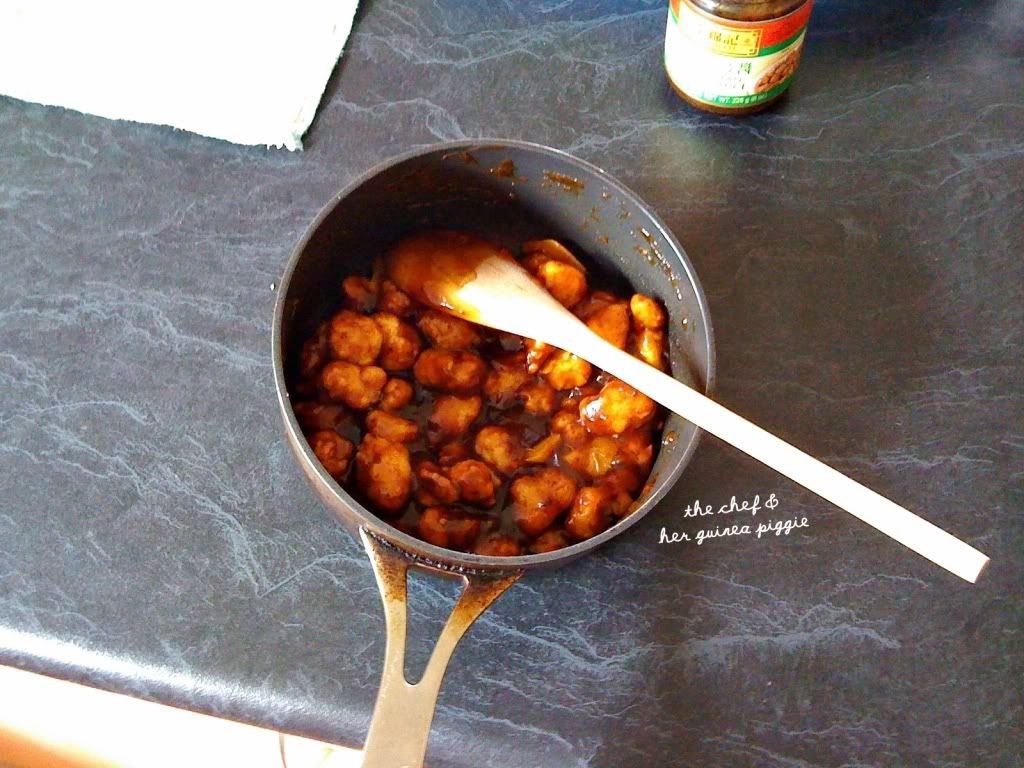 Detailed recipe for General Tso's Chicken from
All That Splatters
:
Ingredients
:
1/2 cup hoisin sauce
1/4 cup white sugar
3 tablespoons soy sauce
3 tablespoons cornstarch
1.5 cups water
1 tablespoon vegetable oil (
Note: I used peanut oil; more fragrant!
)
4 garlic cloves (minced)
2 tablespoons fresh ginger (minced)
1/2 teaspoon crushed red pepper flakes (
Note: I used korean red chilli pepper
)
1.5 pounds boneless & skinless chicken fillet
3 large egg whites
1.5 cups cornstarch
1/2 cup all-purpose flour
1/2 teaspoon baking soda (
Note: I'm not sure if it's the same thing, but i used baking powder
)
Oil for frying
Scallions (for decor) (
Note: I used cucumber slices as a base & placed the chicken on top of it
)
Instructions
:
1. To make the sauce: Whisk together hoisin sauce, white vinegar, soy sauce, cornstarch, & water in bowl. Set aside.
2. Heat oil in pot over medium-high heat. Saute garlic, ginger, & red pepper flakes until fragrant. This will take approx. 1 minute.
3. Add in sauce mixture. Stir until sauce turns dark brown and has thickened. Remove from heat. Cover & set aside.
4. Cut chicken into chunks.
5. Whisk egg whites until foamy.
6. Combine cornstarch, flour, & baking powder in a shallow dish.
7. Toss half of the chicken chunks into the foamy egg whites until chicken is well coated, then dredge the chicken into the cornstarch mixture. Make sure all sides are coated. Transfer to plate & repeat with the remaining chicken chunks.
8. Heat oil in pot & deepfry the chicken in batches until golden brown. This will take approx. 3 minutes. Remember to turn over the chicken pieces halfway through cooking.
9. Transfer deep fried chicken chunks to towel lined baking sheet to drain away excess oil.
10. Re-warm the sauce until bubbling. Add in chicken pieces. Toss to coat.
11. Garnish with sliced scallions.