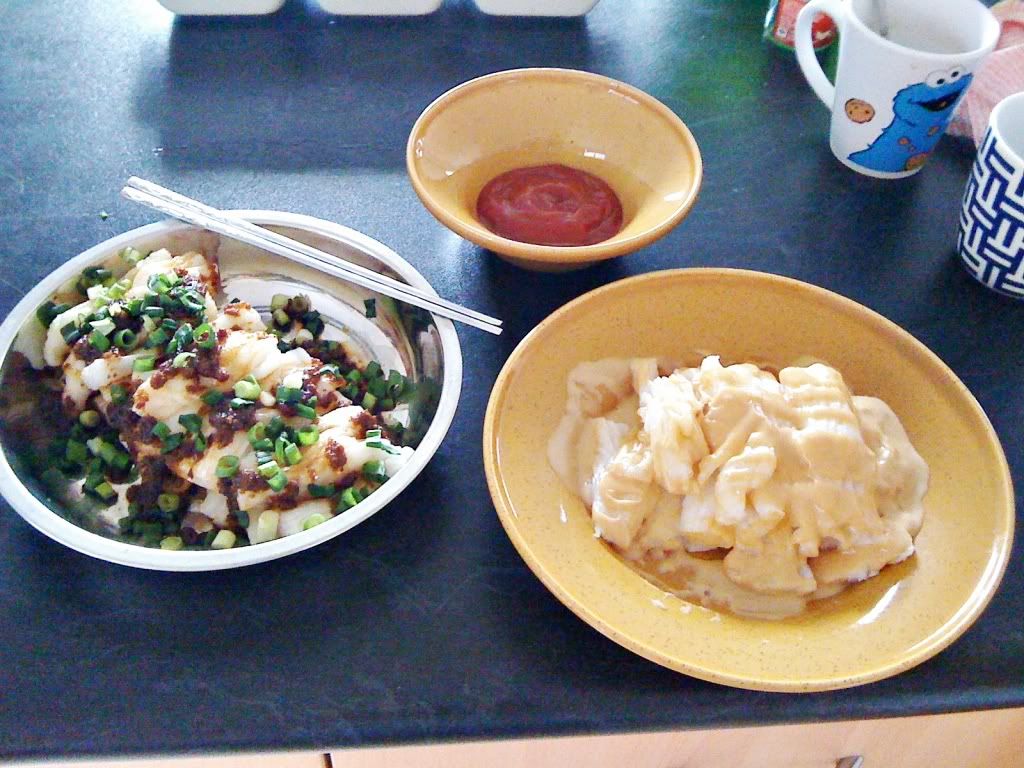 Mid-week breakfast for the honey bear and myself: pan fried cheong fun (rice rolls) with xo sauce & peanut sauce.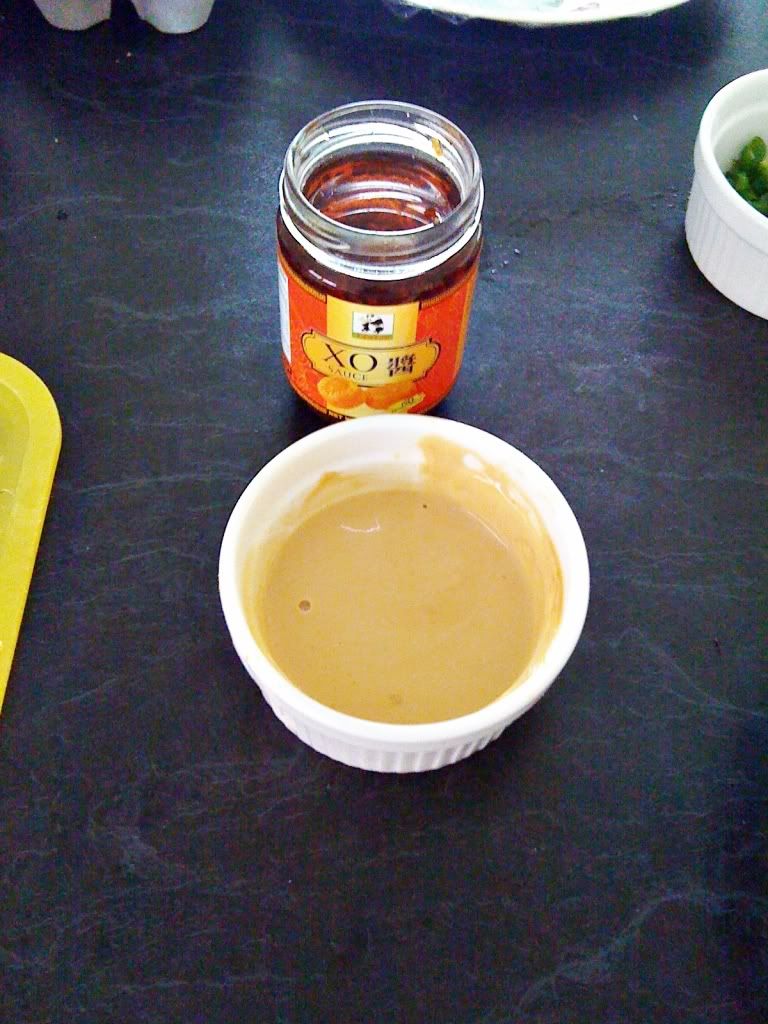 I love pan-fried cheong fun (rice rolls) and it is my number 1 must-order dish whenever i am yumcha-ing at a chinese restaurant. I love the HK-style pan-fried cheong fun because the cheong fun is very crispy on the exterior yet soft on the inside; i also love the HK-style because it is served with sweet sauce (i think it's hoisin sauce?) and PEANUT sauce (i am a self-proclaimed peanutbutterholic, so love love LOVE!). The honey bear doesnt quite like the HK-style of sweet sauce & peanut sauce; he likes cheong fun the traditional (in my view, boring) way, i.e. steamed, filled with char siew (sweet pork), & drowning in light soya sauce. If you havent already noticed, the honey bear's & my eating habits differ hugely, which makes it difficult for the chef (me!) whenever i'm cooking our meals (alot of accomodating takes place during meal times for us). So anyways, i divided the rice rolls up into 2 batches; 1 batch will be served with xo sauce (looked so yummy over @
Mochachocolata-Rita's blog
that i absolutely had to give it a go) and the other batch will be served with my all-time favourite, peanut sauce.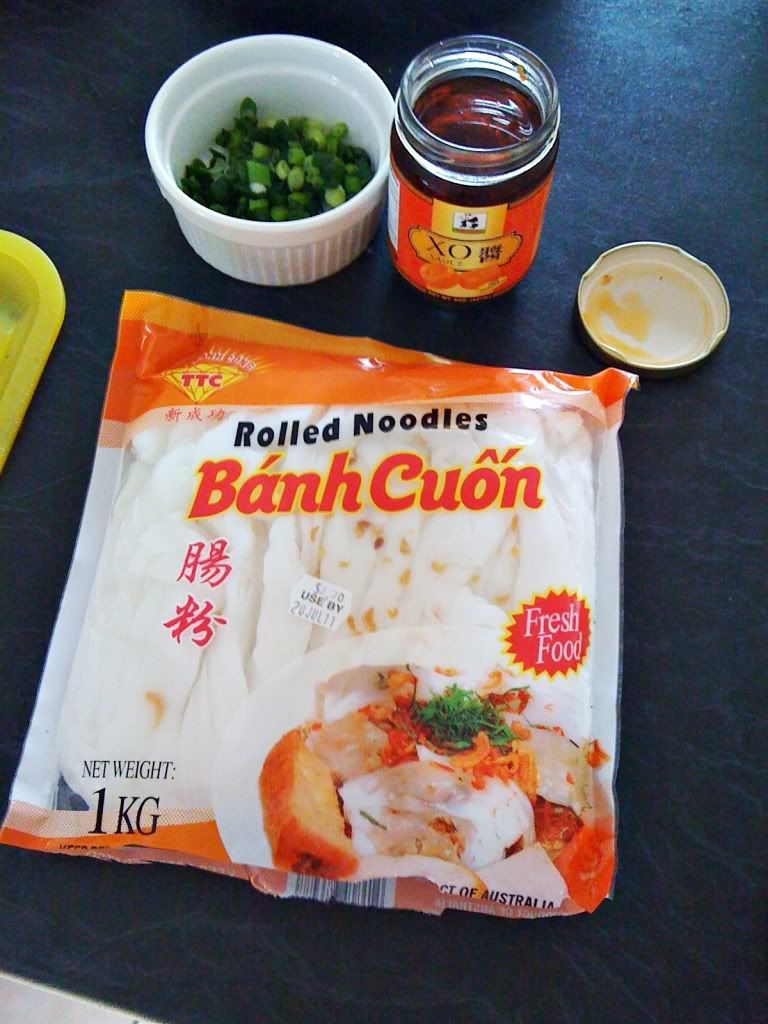 I cant make cheong fun; it requires high level skills which i clearly am not equipped with; so i bought the readymade ones from the Asian grocer's. For the xo sauce cheong fun, i'm going to add some scallions/spring onions as garnishing, so i chopped up some & set aside.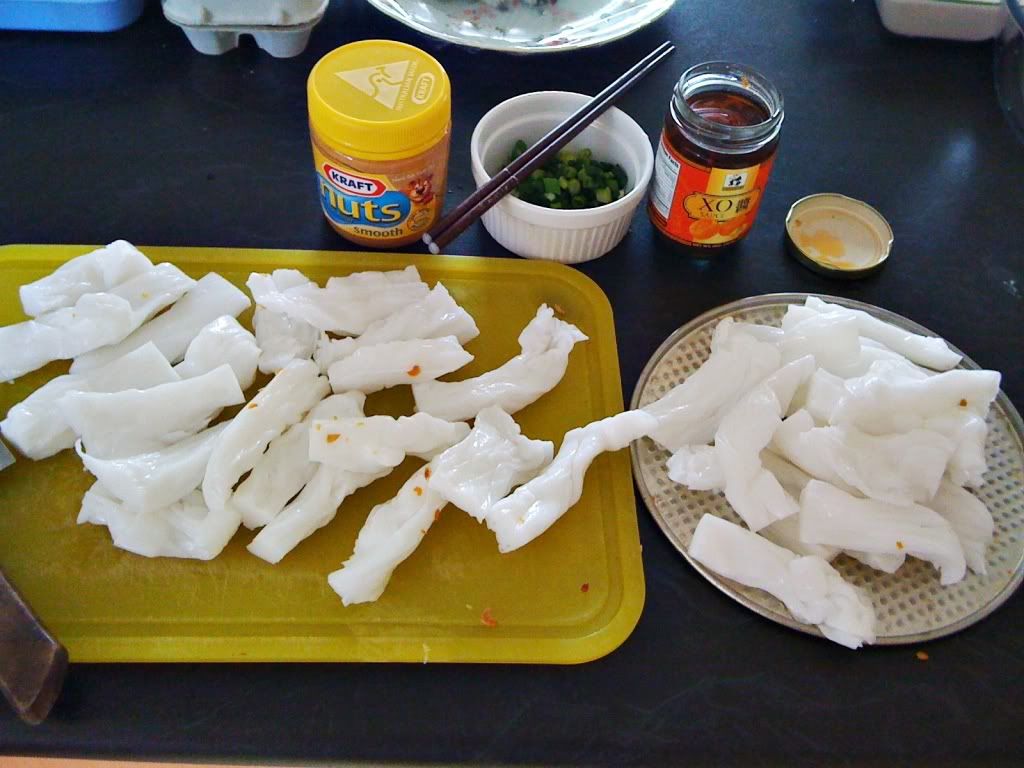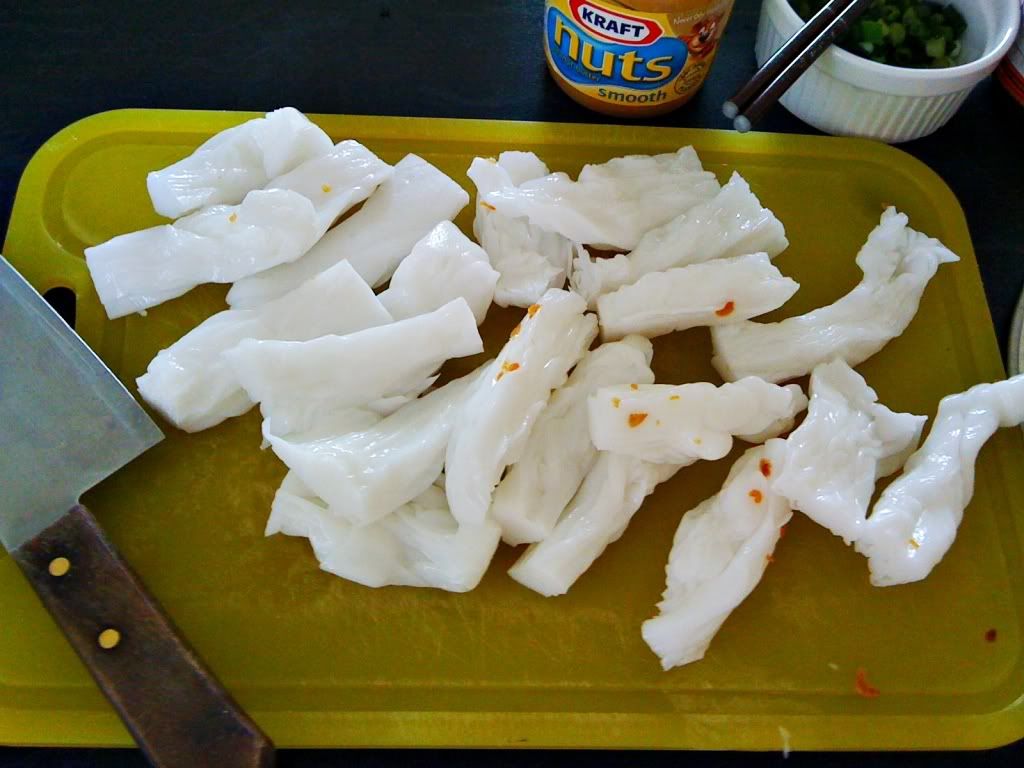 The rice rolls were too long, so i cut them into halves, then divided them into 2 batches. Ready to pan-fry!

Pan fry them until their sides are crispy! Mine didnt crisp well, not sure why. Maybe i should try out another brand of readymade cheong fun next time. The cheong fun from this brand not only didnt crisp well, they stuck to each other like superglue whenever i tried to turn them over, driving me nuts><

After pan frying the cheong fun, i arranged them nicely on a plate. Then i heated some oil in pot, added in the xo sauce, added in some chinese cooking wine, warmed it up, then poured it over the cheong fun & garnished it with some chopped spring onions. And that's how it's done! For the peanut sauce, i scooped out a generous amt from the peanutbutter tub, added some hot water alittle at a time, & stirred till the thick peanutbutter becomes a watery form. Then pour it over the cheong fun & serve with sweet sauce:)