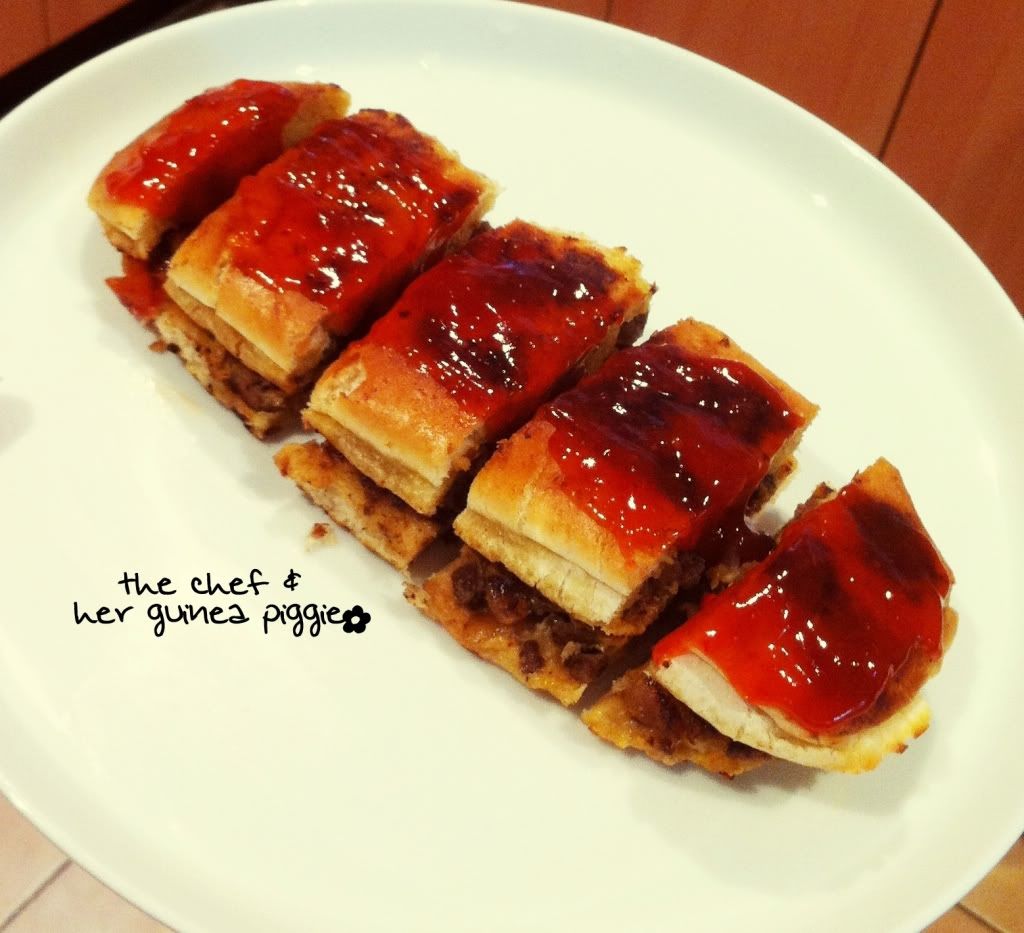 After a two-month holiday back home in Singapore, I felt extremely homesick the first week I was back in Melbourne. I especially missed some of my favourite hometown specialty dishes, for example, Roti John (i.e. omelette sandwich)...
How i cooked the dish: Finely chop up an onion. Marinade some minced beef with salt, pepper, sugar, & kecap manis (indonesian sweet soy sauce). Whisk egg. Heat oil in pan. Pan-fry onions and minced beef till cooked through (note: minced beef must be pre-cooked). Add the cooked beef mince into egg mixture. Split the hot dog bun into half. Spread a liberal amount of the beef+egg mixture on the bread. Heat butter in pan. Pan-fry the bread (the side with the egg mixture to be pan-fried first). Flip the bread and then pan-fry the other side (without egg mixture). Repeat until bread is slightly crisp and egg mixture is cooked through. Remove from pan and place on cutting board. Slice the roti john into pieces. Lastly, spread chilli sauce on the top of the bun!
Ingredients:
2 cups of minced beef (washed & drained)
1 tablespoon curry powder
1 teaspoon black pepper
1/4 teaspoon salt
5 eggs (beaten)
1/8 cup milk (optional)
1 onion (diced)
Cilantro (a handful; chopped)
2 stalks of spring onion (chopped)
1 red chilli (sliced slant & thinly)
1 green chilli (sliced slant & thinly)
Salt (to taste)
French loaf/Baguette/Hot dog bun
Butter
Oil
Instructions:
1. Pan-fry the meat for approx. 5 minutes, until the liquid from the meat starts to ooze out & meat turns brown.
2. Add curry powder, pepper, & salt. Continue to simmer the meat on medium-high heat. Stir from time to time. Cook until liquid dries up and meat is quite dry.
3. Remove from pan, set aside, and allow meat to cool.
4. Beat eggs and add milk, onion, cilantro, spring onions, chillies, and salt. Mix well.
5. Add the cooled meat into the egg mixture & mix well.
6. Slice the baguette/french loaf/hot dog bun into half, lengthwise. Then cut each half into 4 equal parts.
7. Spread a little butter on each slice & place bread onto hot pan until the surface of the bread is slightly browned.
8. Remove from pan. Dip the buttered side of the bread into the egg mixture. Use a fork to scoop the meat mixture onto the bread.
9. Heat oil on the pan and quickly place the bread with the egg & meat mixture side onto the heated pan. Leave it to cook for 2 minutes before using the flat side of a frying spatula to press the bread (this step helps the meat mixture to cook more evenly).
10. Flip the bread over & cook the other side for a few minutes till crisp. Flip it over again and make sure the meat mixture is well cooked through before serving.
11. Serve hot with mayonnaise, tomato ketchup, and chilli sauce!