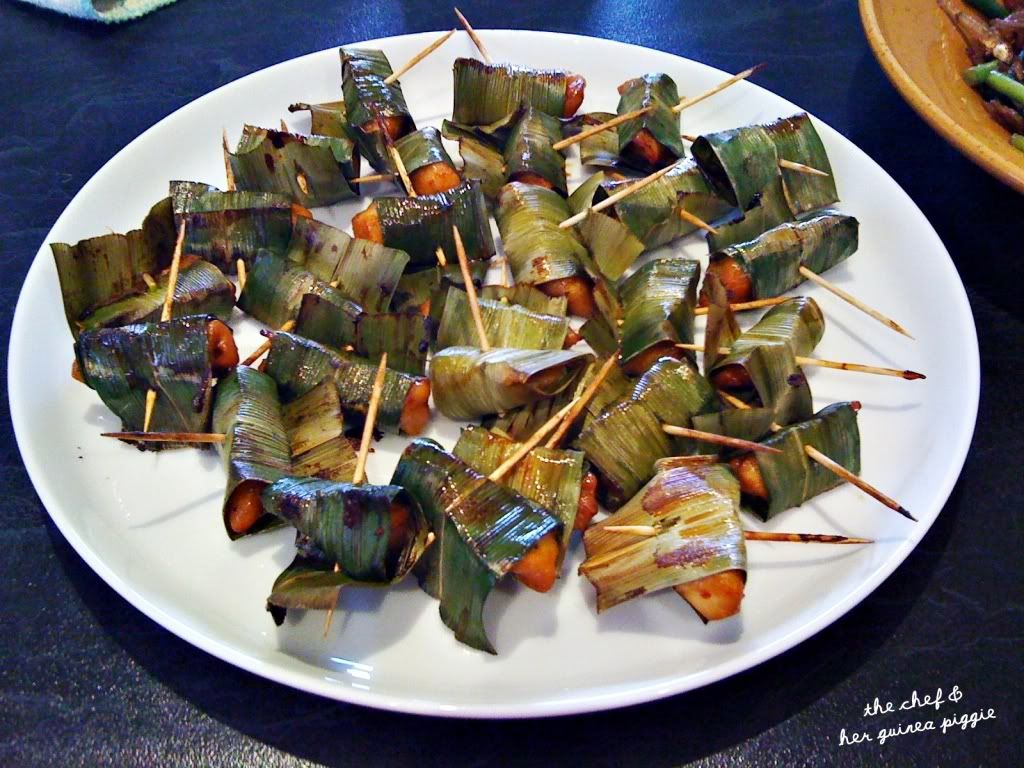 I'm lagging behind in my updates yet AGAIN. No surprise there anymore, since its way too often that i'm slacking and not diligently updating. Many a time i'd start a few lines, upload a couple of pictures, then run off to cook/get something or get distracted by something else/someone. So there's actually heaps of unfinished drafts in my "Edit Posts" section! *Guilty* So anyways, today's update is a dish which i cooked last friday for lunch: Oven Baked Pandan Chicken!
Do u use pandan leaves in your cooking sometimes? Did you know that pandan leaves can be added to sweet soups? It can also be added into the rice cooker pot to be steamed along with the rice. Makes the rice more fragrant. It can also be pounded to extract its juices! Pandan leaves are often used in southeast asian cooking because of its unique fragance and sweet aroma! I managed to find these at the asian grocery shop and bought a bundle to use in my cooking:)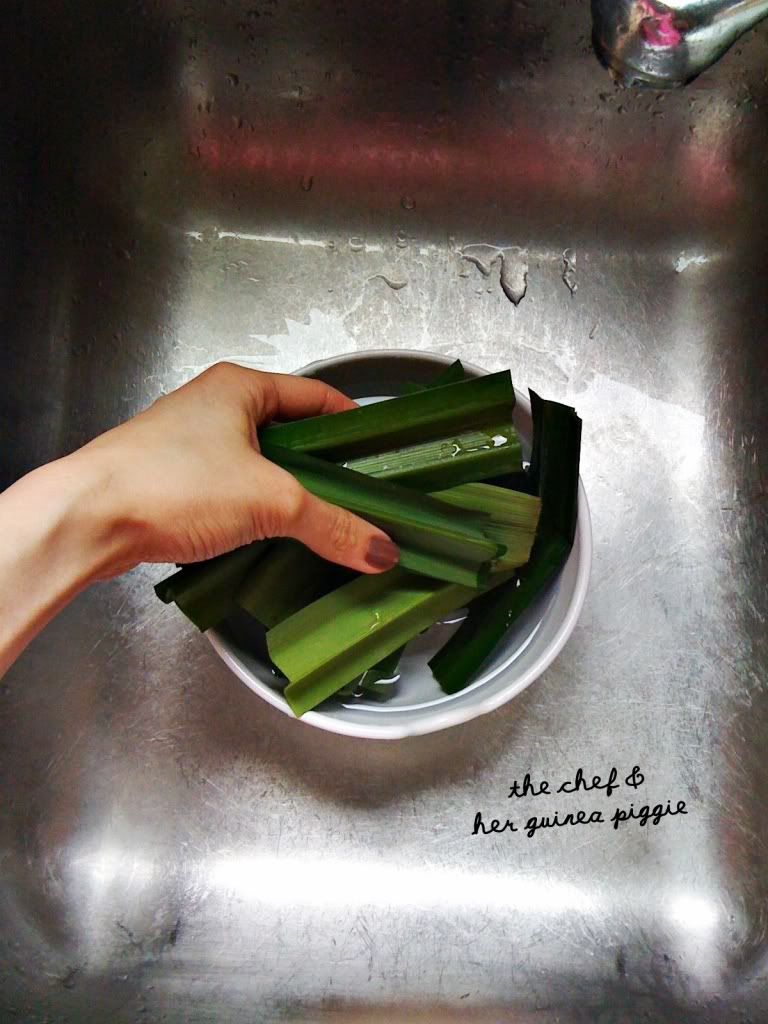 Cut up the pandan leaves into parts with a kitchen scissors. Before using the pandan leaves, rinse it/wash it clean in cold water. Set aside to allow to dry slightly. Alternatively, u can wipe them dry with a paper towel or simply shake them alittle.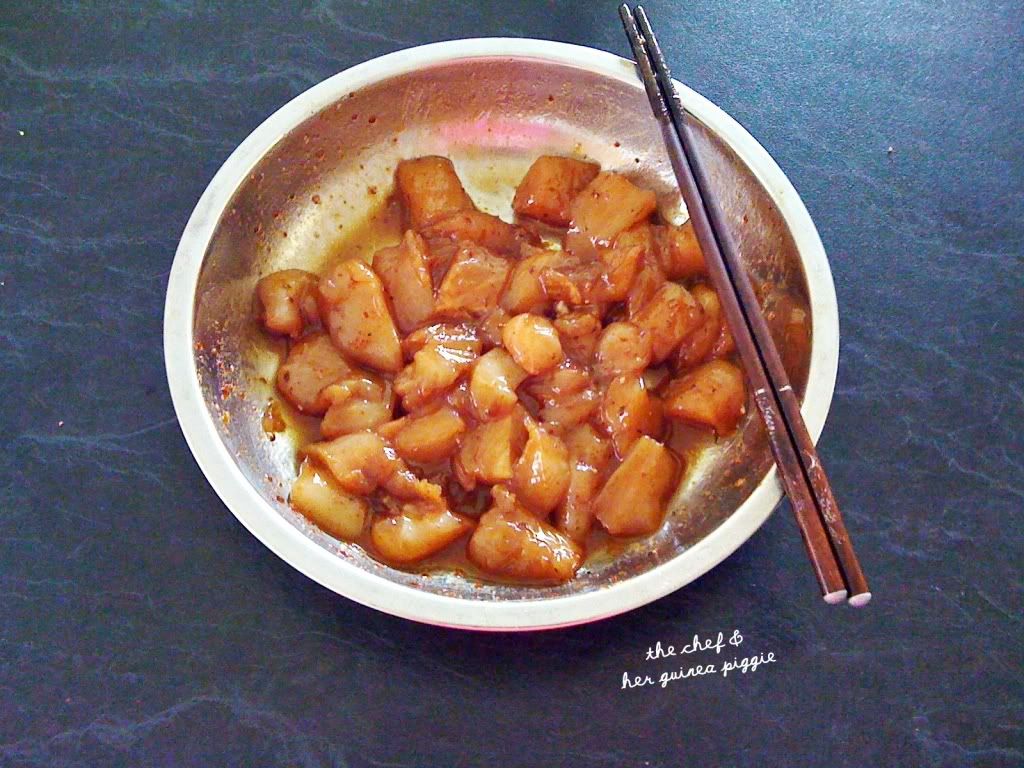 Prepare the chicken. Chop the chicken up into thicker chunks, medium sized. I used chicken fillet; u can opt to use chicken thigh if you think that chicken fillet will be too tough & dry. Thigh meat will be more tender:) Marinade the chicken chunks. I usually marinade all kinds of meat with: sesame oil, shaoxing wine (chinese cooking wine), salt, sugar, light soya sauce, and cracked black pepper. Sometimes I add in a dash of maggi sauce or some oyster sauce or fish sauce too, for a more enhanced/stronger flavour. For this dish, I added in some chilli pepper flakes too, for a more spicy taste.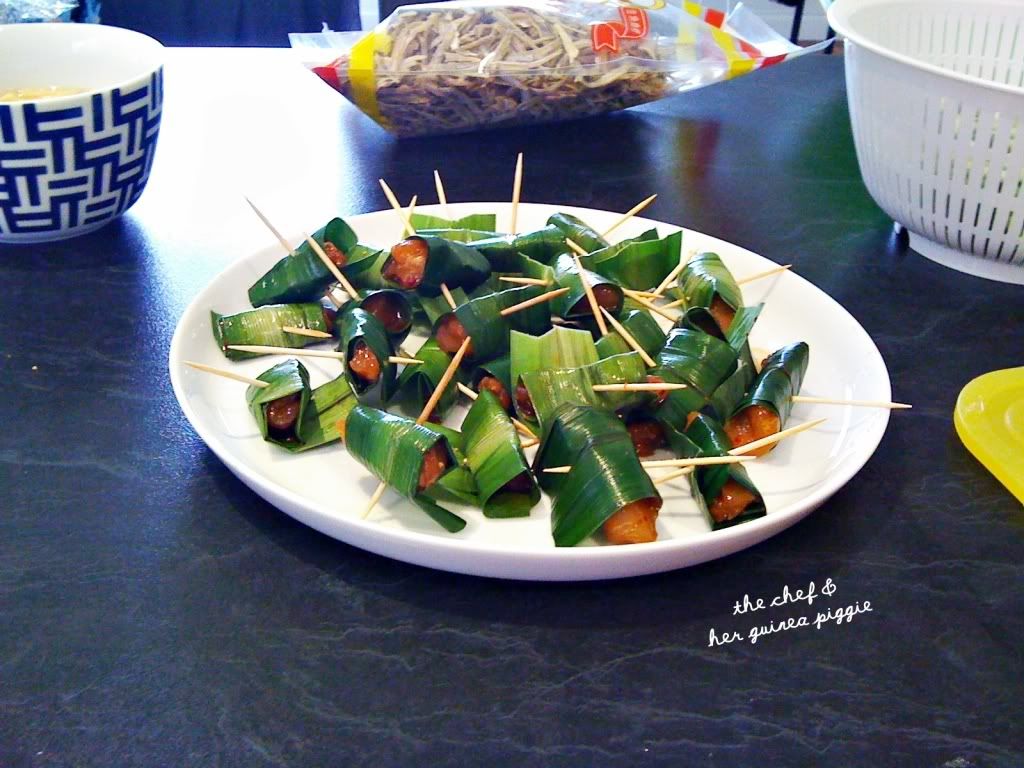 Wrap the chicken up with the pandan leaf and then secure with a toothpick! It wasnt as easy as i initially thought it would be. The chicken bits were slimy and some portions of the pandan leaves were too stiff! So it made rolling the leaves more challenging. You might want to consider cutting the pandan leaves into longer lengths; it'd definitely make rolling easier!
Line a baking tray with baking paper. Arrange the pandan chicken on the baking paper. Spread them out, dont overlap. This will ensure even cooking.
Bake until chicken is cooked through!
(p.s. remember to check at regular intervals to prevent over-cooking)
(Note: Both of these recipes deepfry the pandan chicken; for mine, i oven baked them. Hence cooking time will be much longer than the time recorded in these 2 recipes.)